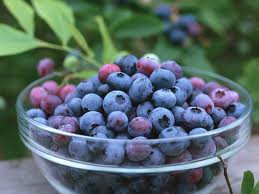 Blueberries are on sale!    This is certainly a confirmation to me that summer had arrived.   I love putting them in my morning shake. especially the new summer peach smoothie mix that I use.   I also put some in the freezer so I always have a bounty of  antioxidants to add to shakes, cereal, pancakes and muffins, fruit salads (or just a quick frozen snack!)
Did you know that blueberries are naturally free of sodium and contain potassium, calcium, and magnesium, all of which have been found to decrease blood pressure naturally?  And if you are looking for fiber, one cup provides 3.6 grams!
In the book Gary Null's Power Foods, he describes blueberries as powerful phytonutrients which include  anthocyanidins  which neutralize free radical damage that affects the collagen matrix of cells and tissues.  Only 80 calories per cup, they provide 31% of the RDV of vitamin C,20% of the RDV of manganese, nearly 4 grams of dietary fiber, and over 7% of the RDV for vitamin E!
Anthocyanidins are the blue-red pigments found in blueberries and are credited with enhancing the effects of vitamin C, enhancing the health of all body tissues, protecting the cardiovascular system, protecting the brain from oxidative stress, and improving brain function by crossing the blood-brain barrier to localize in the brain regions controlling spatial learning and memory.
Another powerful antioxidant included is pterostilebene, credited with being a heart-disease-fighting and cancer-fighting phytonutrient.  Apparently new studies have even attributed this antioxidant to help in lowering cholesterol.  Elligic acid, another antioxidant present in blueberries, helps to block the metabolic pathways that lead to cancer.
A supplement which comes in capsule form, ( just 2 capsules which can be opened and added to water) providing over 300 mg of flavonoids, from blueberry, elderberry, green tea, and grapeseed, among others is something Ray and I have added to our diet at times when we are traveling or not able to have organic choices on hand.
One of Whole Foods Recipes using blueberries sounds particularly delicious.  I have included it here:
LEMON CREAM WITH BLUEBERRIES
Ingredients:
2 Tbsp. grated lemon zest, divided
3 Tbsp. fresh lemon juice
8 pitted dates, coarsely chopped
1 teaspoon pure vanilla extract
1/8 teaspoon ground cardamom
1 (12 oz) package silken tofu, drained
2 cups fresh blueberries
Combine 1 tbsp. lemon zest, lemon juice, dates, vanilla, cardamom, and tofu in blender.  Puree ingredients until smooth.  Divide lemon cream evenly among 4 bowls and garnish with blueberries and reserved lemon zest.  Serve immediately or chill until ready to serve.  YUM!
What's your favorite blueberry dish?
Facebook Comments