My Faves For Summertime
| Category: Holidays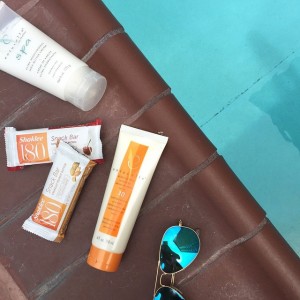 Looking forward to our upcoming family vacation at Lake Lure I always make sure to take along all of these products with me.  The only one I would add to it would be the Shaklee 180 Energizing Tea which makes a great cold tea or a comforting hot cup.
The Shaklee 180 snack bars are great as a sweet, guilt-free treat.  Loaded with protein (9-10 grams), and fiber, just one snack bar goes a long way in curbing hunger.  Powered by Leucine, non-GMO soy protein, no artificial flavors, sweeteners, or preservatives added, gluten free and 99% lactose free.
If you have not tried Shaklee's Enfuselle Spa Treatment, it's a must!  Enfuselle® Spa Ultra Moisturizing Shea Butter Cream – you can pamper your skin with luxurious shea butter which is extracted from the fruit of the shea tree, and has amazing moisturizing properties. This Shea Butter Cream has a wonderful consistency and soaks deep into your skin, leaving it smooth and hydrated with added vitamin E for extra skin nourishment. For hand and body.  Paraben Free of course.
With all of the scary headlines about the dangers of sunscreens, I feel very relieved that Shaklee has an option for us ~ Designed for all skin types, including the most sensitive skin, this patented, water resistant, oil-free sunscreen smoothes easily into your skin and absorbs quickly, without leaving a sticky residue. Soothing and moisturizing, it does not irritate the skin. Triple-patented Vital-Repair+® Complex contains antioxidant vitamins and botanicals. The formula offers broad spectrum protection and adds an extra defense against premature skin aging.  Paraben Free
I loved these suggestions from the American Heart Association on ways to have a healthy summer:
The arrival of spring and summer means days at the pool, family picnics, baseball and other outdoor activities. Here are some tips to keep your family physically active in the warmer months:
Hydrate! Drink plenty of water before, during and after physical activity to avoid dehydration. For low-calorie flavor, add slices of your favorite fruits such as melon, oranges, berries or even cucumber or mint to a pitcher of water and refrigerate for two hours. Read our Staying Active in Warm Weather and Staying Hydrated – Staying Healthy.
Protect your family from the sun: wear wide-brimmed hats, always apply water-resistant sunscreen with at least SPF 15 and reapply sunscreen every 2 hours.
Heat safety: avoid intense activities between noon and 3 p.m. when the sun is at its strongest.
Dress for the heat: wear lightweight, light colored clothing, choose light, breathable fabrics such as cotton, and wear sunglasses to protect your eyes.
Head indoors: when the heat gets unbearable, try indoor activities at your local YMCA or rec center like basketball, swimming, yoga or racquetball.
What are your favorite summertime products and suggestions for safe summer fun?
Facebook Comments