Make this change for Mother Earth
| Category: Healthy Home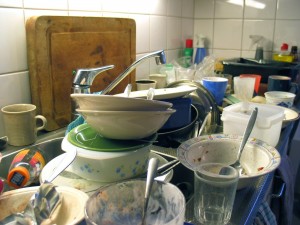 Every day our families have to deal with those pesky dirty dishes, some more, some less, depending upon the size of the household. But how often do we think about the soap we are using to clean those dishes with?
Did you know that one 42 gallon of oil creates 19.4 gallons of gasoline and the rest (which includes over 6,000 items) is used to make things like detergents, soap, lipstick, nail polish, hand lotion, dentures, denture adhesives, cold cream, etc. etc.?
Those "dishpan hands" literally come from the synthetic surfactants such as ethanol, a widely used ingredient, which dries out delicate skin. We don't even want to think about all of those synthetic colors, dyes and contaminants being absorbed into our skin, and even leaving their residue on our now "clean" dishes. We are definitely hurting the fish as these chemicals wash down the drain and into the water table. Have you ever noticed the smell of chlorine bleach as the dishwasher does it job? Those fumes are escaping and we should not be in that space, breathing them. And don't forget how long those synthetic detergents take to break down.
Back to all those 6,000 products that are petroleum-based. What if we decided to make a difference for our children, their children, and all of those future generations by making an effort to buy only those products that are petroleum-free.
I was introduced 25 years ago to a line of non-toxic, biodegradable, green household products and have never looked back. They are safe and they actually work. Purchasing natural personal care products is another choice I have made
As we all watch in horror at what is happening to the waters of the Gulf, let's think about what we can do to make a difference for our planet. Let's stop buying those cheap, synthetic products and purchase only those that are manufactured without petrochemicals!
Facebook Comments