"Middle Management" ~Some Tips To Help You Stay Healthy Through the Holidays
| Category: Healthy Weight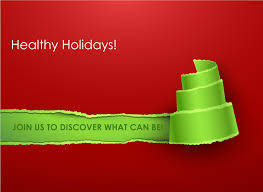 Worried about holiday weight gain? Did you know that a study at Tufts University in Boston stated that 51% of annual weight gain occurs during the brief stretch from Thanksgiving to New Year's Day? Part of the problem is that on holidays we eat up to 900 calories more than usual! Yikes! Been to any parties lately? The average American attends at least four parties near the holidays ~ often with equally indulgent menus. Unfortunately, even one extra holiday pound can hang around for months, raising long-term obesity risk. So what to do? Here are some healthy tips for you:
#1. Are you one of those "bakers of holiday treats" that like to bite, lick and taste? Establish for yourself a no-BLT rule and stick to it ~ leaving all the more for your guests!
#2. Nothing beats helping you decide not to have that second piece of pie than the vision of what you will be wearing at that next party ~ the "bulky" one that covers up everything or that one that fits perfectly? Eating that second piece would definitely be saying yes to that bulky one!
#3 We all know how important breakfast is ~ but did you know that in a study published in the American Journal of Clinical Nutrition, women who went without a meal in the morning actually consumed more calories throughout the day than those who made sure to eat something as simple as a bowl of high-fiber cereal?
#4. I just went to a party last evening and allowed a little of everything offered in very small portions ~ then I left and did not linger. Come to find out, when food is visible AND within arm's reach, people graze mindlessly!
#5. Those amazingly good holiday meals can actually have an inflammatory effect on the body and even can stiffen our blood vessels temporarily. What to do? Walk of course! Even playing in the snow immediately afterward can help stop this effect.
#6. At that party I mentioned earlier that I attended, someone was kind enough to serve very very thin slices of raw sweet potatoes with just a spattering of fresh oregano. They were delicious! AND that choice kept me from picking up that extra Christmas cookie! I do try to look at the choices I have BEFORE I pile my plate and go for the simpler foods offered, rather than the ones candied or fried.
#7. With January being a peak month for "back to the gym" routines, new resolutions, etc. it is easy for us to think "I'll get back on track in January" and totally indulge during the holidays. That is why I am focusing on "health every day" and enjoying healthy protein morning shakes and sometimes even for lunches, so I can look forward to a nutritious dinner. If you would like more information about these delicious shakes (that come in many flavors) go here
#8 How about a healthy delicious Peppermint Chocolate shake for the holidays. (The shake, before the additions that you choose, are simply 2 scoops of the Shaklee 180 Life Energizing Shake and 8 oz liquid. I always add ice to make it creamier). This Life Shake also comes in Vanilla, Cafe Latte, and Strawberry flavors.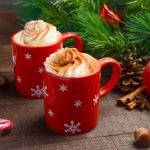 Ingredients:
2 scoops Chocolate Life Energizing Shake
1 cup milk of choice
1 frozen banana
1/2 tsp. peppermint extract
Directions:
Combine all ingredients in a blender with 4-6 ice cubes and blend until creamy.
Whip cream shown as a serving suggestion only.
Facebook Comments