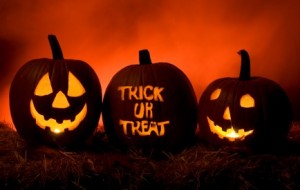 When I went trick or treating as a child I remember my favorite house to go to was not giving chocolates away ~ actually they were giving pomegranates! And that was one of my very favorite things to eat. I did not think of it as a "healthy" choice ~ just a tasty one! As a parent I always wished I had that pomegranate tree in the backyard to share with the trick or treaters at Halloween.
Today with the average amount of sugar per child per day at about 60-100 grams, it is no wonder we are dealing with an increase in childhood diabetes as well as childhood obesity. And Halloween happens to be one of those days when candy is king. Of course no one wants to spoil Halloween for any child. The fun of dressing up and knocking on neighbor's doors was always one of my very favorite things to do, as well as my own children and my grandchildren. Picking out that favorite costume begins almost before summer comes to an end.
So what's a parent to do? Perhaps choosing to hand out fun stickers, temporary tattoos, cute plastic jewelry, dried fruit (such as little boxes of raisins), little boxes of crayons and little packages of pretzels could be an alternative for some of the candy. One idea my daughter has used each year is to let each of the children pick out 10 of their very favorite pieces of candy from their "loot" and then leave the rest on the porch for the "Halloween Candy Witch" to take it and leave them a very special surprise. That actually was quite successful.
Another idea is the following;
The Candy Give-Back program is now dedicated to the Care Package growth plan and execution. It's a very exciting time, and don't worry…our packages will still have plenty of sweet treats.
If you and your family would like to volunteer or donate other items our troops will appreciate, there are so many ways to get involved…
Please visit Volunteer – Operation Gratitude for more details. Our volunteers and partners are the heart and soul of Operation Gratitude, and we welcome your support and invite you to join us on the journey.
Another suggestion is to make sure your little ones have a nutritious mea
l before going out that evening to collect their treats. Hungry children will definitely consume more candy than those who have filled up on dinner. If you cannot interest them in the usual dinner fare, offer them a simple shake that is nutritious as well as filling and comes in two flavors:
French Vanilla
or
Bavarian Cocoa
Meal Shake. It actually provides 19 essential vitamins and minerals, is a low fat, low-glycemic, a good protein source and is a "healthy fast food!"
What about you? How do you handle all of that "loot" that comes in on Halloween night? Would love to hear your ideas as well.
Facebook Comments