The Difference a Swimming Pool Can Make in a Child's Life
| Category: Exercise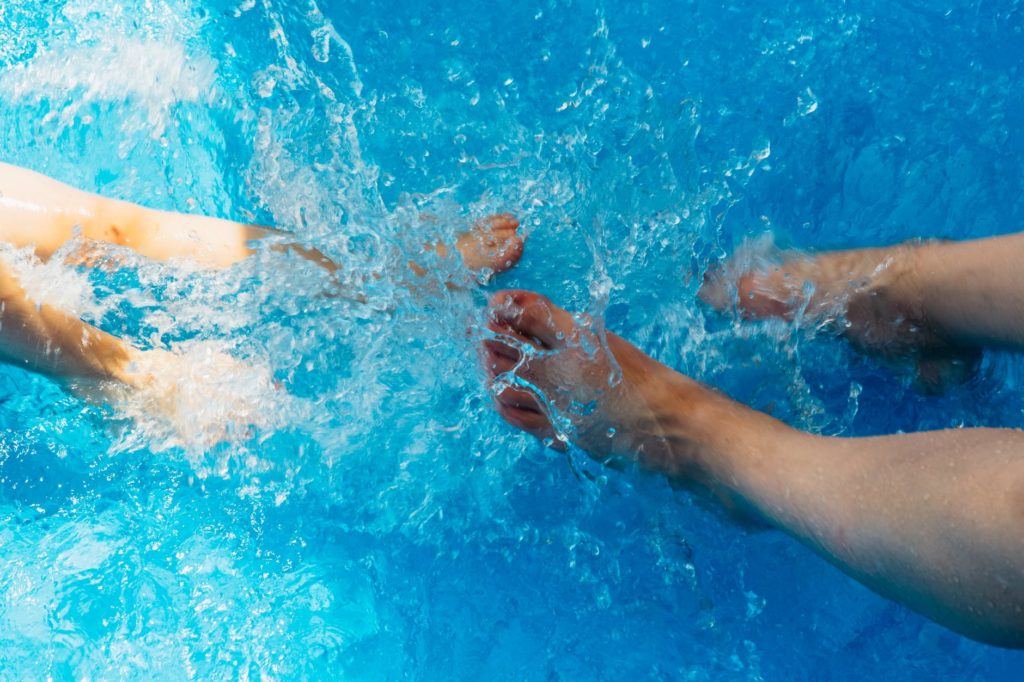 Growing up as a chubby child has made me realize the importance of recognizing childhood obesity. Since September is National Childhood Obesity Awareness Month I wanted to emphasize the devasting effects that obesity can cause, putting children at a greater risk of developing serious adult health problems such as heart disease, type 2 diabetes, stroke, certain types of cancer and osteoarthritis
I was very fortunate in that our father had a swimming pool installed in our backyard.  My sisters and I were not even aware that we were exercising while in the pool.  We just knew that we wanted to be in the water 24/7!  We never changed our diets (always cleaned our plates!), just swam from morning until night.  The weight literally dropped off of us; in fact, when we returned to school after our summer vacation, the other children did not recognize us!  We did not know what a blessing that was for us.  But now I know.   Obesity seems to have taken on a life of its own and becoming more aware of the problem and working on helping America's children to develop healthy habits that can last a lifetime is a wonderful mission.
According to the CDC (Centers for Disease Control and Prevention) about 1 in 6 (17%) children in the United States has obesity.  The number of obese adults, along with related disease rates and health care costs are on course to increase dramatically in every State in the country over the next 20 years according to F As In Fat: How Obesity Threatens America's Future 2012,  a report released by Trust for America's Health (TFAH) and the Robert Wood Johnson Foundation (RWJF).
Obesity is defined as an excessively high amount of body fat or adipose tissue in relation to lean tissue. An adult is considered obese if his or her body mass index (BMI) is 30 or higher.  A great tool for gauging BMI can be found here with links for both children and adults.  If States could reduce the average body mass index (BMI) of residents by just 5% by 2030, every State could help thousands or millions of people avoid obesity-related diseases, while saving billions of dollars in health care costs.  This could be as simple as someone losing just 10 pounds.
An excellent article regarding the difference exercise can make on a child's brain can be found here.  One study found that kids scored higher on math and reading comprehension tests after exercising for just 20 minutes!   This makes my swimming experience an even more exciting blessing for my sisters and I!
Better food choices such as making more fresh fruits and vegetables available to children (instead of the high sodium and high fat choices found in fast food restaurants), along with more time for physical activity are two small choices that can make a big difference.  Fall is a great time to spend time in the kitchen preparing healthy, hearty soups.  Children love to participate in creating mealtime.   Try this easy pancake recipe that incorporates extra protein in each serving:
2 scoops Vanilla Life Energizing Shake™
1 organic egg
1/3 cup almond milk
1/4 tsp. baking soda
1/4 tsp. pure vanilla
Coconut oil spray for pan
Organic pure maple syrup
Mix Shake powder, egg, almond milk, baking soda and vanilla in medium bowl. Cook on griddle lightly coated with coconut oil spray.  Serve with fresh fruit and organic pure maple syrup.
Going back to the 10 pound loss to create a 5% decrease in our BMI, in Brad Lamm's book, Just 10 LBS ~ Easy Steps to Weighing What You Want (Finally),   it is stated that just losing 10 pounds will also significantly decrease your risk for heart attack, stroke, hypertension, and diabetes.   He also emphasizes creating a lifestyle that emphasizes the mind, body, emotions, relationships, and most important, your spirit.  As a companion piece to The Dr. Oz Show's major, year-long initiative to change the health of America, this book discards the notion of overhauling life with the vague dream of being thin and challenges the reader to focus on losing just 10 pounds.
I'm committed to not only lose the weight for myself but to be a role model for others, particularly the children I come in contact with, daily.  How about you?    Will you join me and make this commitment for yourself and those in your life during this important September 2018 of National Childhood Obesity Awareness Month?
Small changes can add up to a big difference.
Facebook Comments