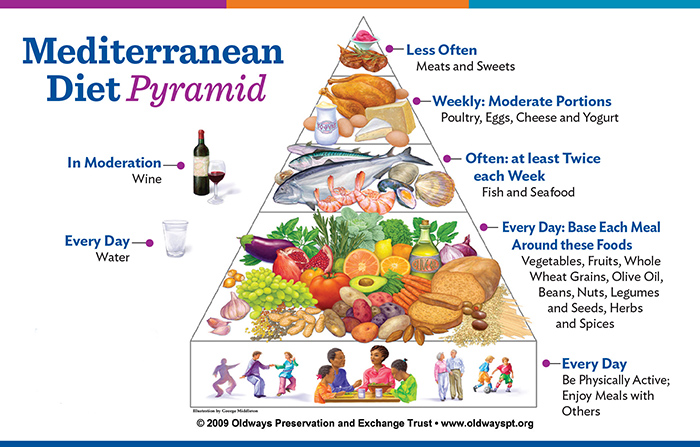 DID YOU KNOW…..In a partnership with the Harvard School of Public Health, Oldways created the first Mediterranean Diet Pyramid in 1993 using the most current nutrition research to represent a healthy, traditional Med Diet. It was based on the dietary traditions of Crete, Greece, and southern Italy circa 1960, a time when the rates of chronic disease among these populations were among the lowest in the world, and adult life expectancy was among the highest—even though medical services were limited.
It has been 25 years this May that this particular way of eating has been linked to: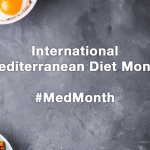 Significantly less plaque buildup in arteries
38% lower risk of frailty in older adults (60+)
30% lower risk of heart disease, and significantly lower risk of stroke in high-risk patients
One of my past posts covered more information about this lifestyle.  Go here to read more about it.  I have tried to incorporate these ideas into my own meal planning each day, particularly in eating more salads and fruit.  With the summer months ahead, light meals including lots of vegetables are very appealing.  The local Farmer's Market has quite a few options to choose from.
Best-selling author and National Geographic fellow Dan Buettner revealed in his book, Blue Zones, what the world's longest-lived people have eaten over the past 100 years to help us all lead a healthier, more fulfilling life.  In his newest book, The Blue Zones Solution, (which I highly recommend), he includes a chapter on The Secrets of A Mediterranean Diet:  Ikaria, Greece.  It was a delightful story of a people who have what the rest of us want:  long, healthy lives with vitality until the very end.  The book features some of their favorite recipes as well.  (I have included one at the end of my post).  Their traditional diet includes lots of vegetables and olive oil, smaller amounts of dairy and meat products, and moderate amounts of alcohol.  They emphasize potatoes (not smothered in sour cream or butter or fried), goat's milk, honey, legumes (especially garbanzo beans, black-eyed peas, and lentils, wild greens, some fruits, and relatively small amounts of fish.  The Ikarian herbal teas all have antioxidant properties and function as well as a mild diuretic, helping to flush waste products from the body and slightly lower blood pressure.
A Greek researcher, Christina Chrysohoou, published the first academic paper on the Ikarian diet and highly recommends their lifestyle.     I loved her comment, "When you eat a meal in a hurry or with pent-up worry, stress hormones like cortisol interfere with the digestive process.  Your body doesn't absorb nutrients and antioxidants as well; the calories you consume are more likely to end up as fat on your waistline than energy for your cells."
I found an excellent resource for tips, recipes, etc. on living the Mediterranean lifestyle.  Here are just a few examples found there…
I hope all of these resources help you to discover what a wonderful lifestyle this is.  Here is that recipe from Ikaria that I mentioned:
Greek Potato Salad(6 servings)
Author of Blue Zones states:  "This chunky salad of red potatoes, fresh greens, and a couple of boldly flavored herbs reminds me of summer in Ikaria.  It's an ideal lunch!"
1 1/2 # medium red potatoes, peeled and quartered
1/2 tsp. celery seeds
1/2 cup extra-virgin olive oil
2 Tablespoons red wine vinegar
1 Tablespoon packed fresh oregano leaves, minced
1/2 tsp. salt
1/4 teaspoon freshly ground black pepper
1 small red leaf lettuce head, cored and chopped (about 3 cups)
2 cups arugula, chopped
1/2 cup packed fresh mint leaves
Finely chopped scallions, for garnish
Toasted sliced almonds, for garnish
3 hard-cooked eggs, peeled and sliced lengthwise
 Place the potatoes in a large saucepan.  Add enough cool water so they're submerged by 2 inches.  Bring to a boil over high heat, then reduce the heat to medium and simmer until firm but easily pierced with a fork, about 15 minutes.  Drain in a colander set in the sink and transfer to a large salad bowl; sprinkle the celery seeds over the potatoes while they are hot.  Cool for at least 15 minutes or up to 1 hour.
Whisk the oil, vinegar, oregano, salt, and pepper in a small bowl until uniform.  Pour about a third of the dressing over the potatoes and toss well.  The recipe can be completed thrugh this step up to 3 hours in advance.  Cover and refrigerate the potatoes until you are ready to make the salad; cover and set the dressing aside at room temperature.
Add the lettuce, arugula, and mint leaves to the potatoes.  Top with the remainder of the dressing.  Toss gently but well.  Divide onto 6 serving plates.  Garnish each with chopped scallions and about 1 tablespoon toasted sliced almonds for garnish.  If desired, place hard-cooked egg slices on side of each plate.
Facebook Comments