Becoming a Positive Effect With The Choices We Make
| Category: Healthy Nutrition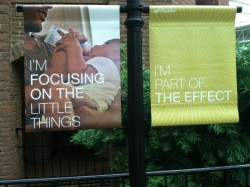 While traveling last week my husband and I went into a neighborhood Mcdonald's for a cup of coffee. We had been on the road for a while so decided to sit down in their eating area to drink it. I have to say I was really shocked when I looked around and saw that we were surrounded by very large people ~ and mostly young people ~ who had, along with their fast food choices, huge containers of soda in front of them. It was very disturbing to see. I could just imagine the health issues all of these young people will be having in their future.
I just came across this article about a couple finding a Mcdonald's bag of french fries while renovating their home. This was not unusual except the fries still looked decent even though the fries had been there since the 1950's and not decomposed! I guess that is why we are told to only eat food within the perimeters of our grocery stores. Check out my post about my own McDonald's bag (which included a hamburger and french fries) purchased many years ago for a young grandson who is now in his 20's!
I realize we all have choices and oftentimes the choices we make affect us and those around us in negative ways; for example, we know that obesity is related to more than 30 illnesses, including type 2 diabetes, heart disease and some forms of cancer. The Trust for America's Health (TFAH) and Micro Health Simulations conducted an analysis to examine how much the United States could save in health care costs if obesity rates were reduced by five percent. The analysis found that the country could save $29.8 billion in five years, $158.1 billion in 10 years, and $611.7 billion in 20 years. Just 5%!
DID YOU KNOW:
Approximately 75 percent of total health care expenses are on preventable diseases, while only 3 percent is invested in disease prevention programs.
In the last 40 years, most American adults consume a staggering two-thirds of a cup of added sugar every single day, usually hidden in processed foods.
"Internally, sugar molecules attach themselves to protein fibers in each of our cells," said Dr. Susan Stuart, a San Diego, Calif. board-certified dermatologist. This damaging process, known as glycation, can result in a loss of radiance, dark circles under the eyes, loss of tone, puffiness, an increase in fine lines and wrinkles and a loss of facial contours and increased pore size!
Heart disease is largely preventable. Up to 80 percent of cardiovascular events are linked to unhealthy choices, which means that almost everyone can lower their risk.
Twenty years ago I began taking small steps toward making better choices and I am glad I did. Adding quality food supplements to my diet was very beneficial as well as setting up a non-toxic home. Just as the picture at the beginning of my blog states ~ "I am focusing on the little things" and "becoming part of the effect." Everything I read about healthier living includes exercise ~ I am working on that! Loved Oprah's small healthy habits that make a difference. Be sure and check it out!
How about you? What steps are you taking?
Facebook Comments